If you've found yourself in the position of missing a tooth, whether it's due to gum disease, having a tooth knocked out or something else, you'll no doubt be weighing up your options on how to replace that embarrassing or unsightly gap.
You have probably heard that implants and bridges are the two options that you have but are unsure which is right for you. In this post we are going to look at the differences between these, the pros, the cons, and why they could be the best choice for you.
Dental Implants
A dental implant anchors in place of your missing tooth. It has a fake tooth root made from titanium, which connects to your jawbone. There is a process that uses temporary cover screws and temporary crowns while the gum grows and bone fuses, and this can take up to six months.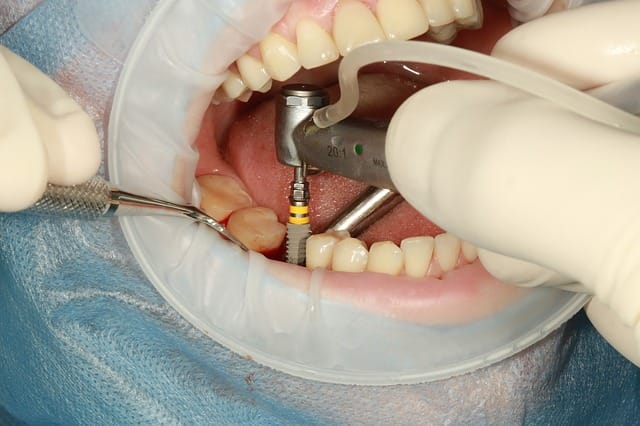 Pros
No unnecessary strain on other teeth
Easier to maintain and clean – flossing and brushing as normal
Can last a life time
Look more natural
Long-term risks to jaw are reduced
Ideal tooth replacement option is most situations
Cons
Surgery is often needed
Sometimes multiple procedures required depending on situation
Process takes a long time
Healing can take months
Most expensive options
The Best Choice for You if:
Your jaw is fully developed, and you have significant bone structure
You have the time and money to go through the process
You want the most natural look
Bridges
With a dental bridge, the gap from a missing tooth is filled by using surrounding teeth as a support. These teeth are altered so that they can hold the bridge in place, while still looking natural.
Pros
No surgery required
Can replace more than just one tooth in the same area
Quicker and easier process – only 2 or 3 appointments needed
Feels stable after correct fitting
More cost effective than implants
Cons
Your other teeth need to act as support for the bridge
Won't work if surrounding teeth are not healthy
Lifespan of only 10-15 years
Underlying structural problems may not be addressed
Can cause other teeth to become loose or fall out if not properly maintained or fitted.
Flossing not possible
The Best Choice for You if:
You have teeth on either side which may need crowns or fillings at some point
You are missing more than one tooth in the same area
Your surrounding teeth are strong
You want a fast and inexpensive process
Still unsure which is right for you?
Even though we've given you all of the advantages and disadvantages of dental implants vs bridges, we understand that it still may be a difficult decision to work out what is right for you. The best thing to do is to speak to your dental practitioner, who will be able to explain all of your options and make recommendations based on their experience.
If you want to get on to replacing your missing tooth, our professional team at Coburg Hill Oral Care will be delighted to guide you through the process. Drop into our clinic to make an appointment at your convenience, or feel free to give us a call on (03) 9041 5301.