If you're missing a tooth, usually the best way to replace it and return your smile to its former glory is by getting a dental implant. This surgical procedure can seem a little daunting for some, so we wanted to share with you the details of what you can expect before, during and after.
What is the dental implant process?
Unlike other dental procedures, getting an implant takes a few months to complete with different stages.
First an artificial titanium root will need to be attached to your jaw, which is done under local anaesthetic. After your jawbone has had time to grow around the titanium root, you will have a crown put over the root that looks like a normal tooth. It can take anywhere from 2-6 months for the bone to fuse to the metal, so you'll be given a temporary crown while this happens.
Many dental implant cases are straight forward, but in some situations, extra steps are required such as removing damaged teeth or grafting the jawbone.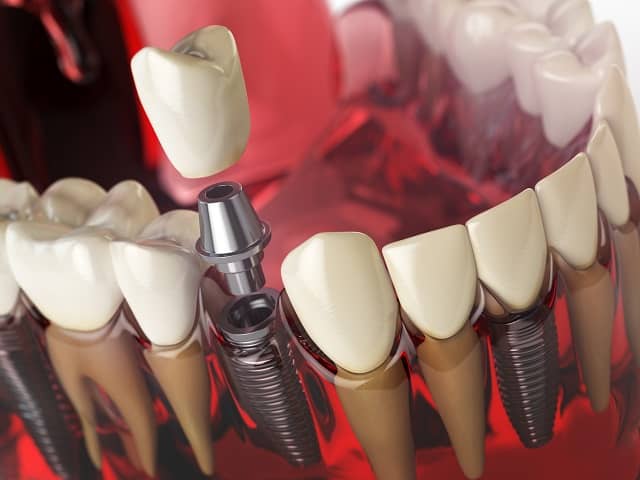 Pre procedure preparation
It's not uncommon to meet with various doctors, dental surgeons and oral health therapists before having your first procedure depending on how complicated your case is. You will have X-rays and moulds taken of your mouth, and your medical history reviewed. Then you'll have a treatment plan put together so you know exactly how many procedures will need to take place and how long the overall process will take.
What to expect after the procedure?
As with any dental surgery, you will have some symptoms that may last a few days while you recover. Some people experience pain and minor bleeding at the implant site, while others will have swelling and even noticeable bruising.
Your dentist may prescribe antibiotics and pain medication to relieve any discomfort and stop any infections from forming.
Are there any risks or complications?
Even though it is rare that there would be a complication when getting a dental implant, it's worth knowing that infections, sinus problems, nerve damage or damage to the surrounding teeth are possible risks.
There is also the chance that bone doesn't fuse with the metal implant as it should. Unfortunately, if this does happen, your dentist will remove the implant and advise you that it could be possible to try again in a few months' time, or they may suggest an alternative solution such as a dental bridge.
How to care for your new dental implant
While you should be practising good dental hygiene at all times, doing so after getting a new dental implant is very important. Your oral health therapist may suggest that you use a special kind of toothbrush to ensure that you can clean the site effectively. You'll want to avoid eating hard foods that could break artificial teeth and see your dental professional regularly to check that everything is as it should be.
If you're a smoker, getting an implant is a good time to stop, as it could result in complications such as the bone not fusing to the metal.
Have a gap you'd like to fill?
At Coburg Hill Oral Care, we make the whole dental implant process as simple and as comfortable as possible for our patients. If you would like to replace a missing tooth, come in and see us at our clinic or give us a call on (03) 9041 5301 to make an appointment.