As the spread of Coronavirus increases both around the globe and here in Australia, it makes sense that you may be feeling a little nervous about the pandemic. You may be wondering if it's still okay to keep your regular appointments and engagements or if you should stay at home as much as possible and put things off until the situation improves.
While it makes sense to avoid travelling overseas and to cancel large gatherings, visiting your dentist is one appointment that you should not miss if you are feeling well.
What precautions is my dental practice taking to stop the spread of infection?
National law requires that all dental practises follow the Dental Board of Australia Guidelines on Infection Control at all times, with ongoing infection control education to stay up to date with the required standards. Dental practices should have protocols that treats everyone, whether dental staff or patients, are potentially 'infectious'.
Since there is always the risk of infection and disease spreading at a medical facility, your dental practitioner routinely ensures that the dental practice is always kept in a clean and hygienic state to minimise the spread of disease. Some of the standard precautions of infection control in Australia include:
Regular hand hygiene using hospital-grade handwash and using an alcohol-based hand rub for 15-20 seconds
Wearing personal protective equipment such as gloves, masks, eye protection and protective clothing
Using sterilised or disposable instruments
Careful handling of sharp objects
Use of plastic barriers and strict disinfection processes after every patient
Correct management of clinical waste
Routine cleaning of treatment and waiting areas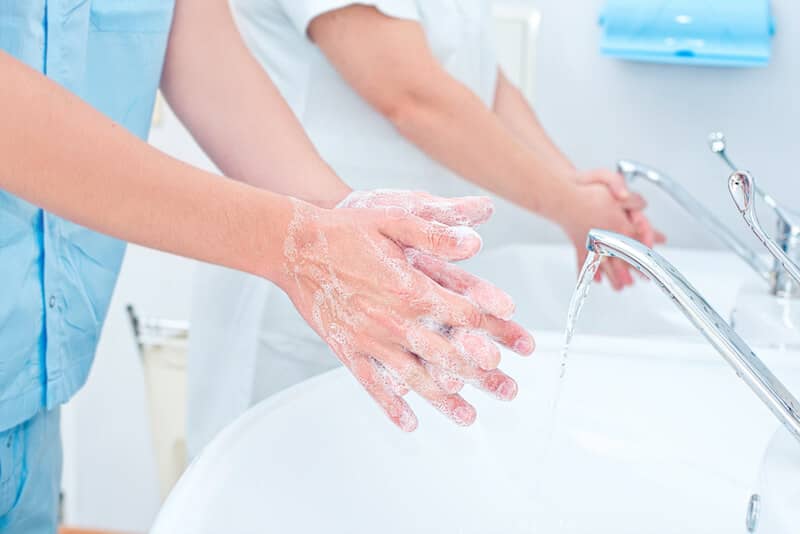 Should I go to the dentist during the Coronavirus pandemic?
Due to our stringent hygiene practices, we encourage patients to keep their regular check-up and cleaning appointments if you are feeling well. It's important to stay on top of your dental hygiene so that you reduce the risk of gum disease and tooth decay. Even though you may be nervous about contracting Coronavirus, poor oral health can also lead to severe health problems. Keeping you as healthy as possible can help you be ready to fight off any infection.
If you have a dental emergency and are in pain, call to make an appointment as soon as possible. An infection can easily become life threatening if left too long without treatment.
When should I avoid visiting the dentist?
While we encourage patients to keep their regular appointments to maintain their dental hygiene, there are some people that we ask to contact us by phone first. These include anyone who:
Has a fever or cough
Has been outside of the country recently or been in contact with someone within 14 days
Has been in contact with a person who has tested positive for Coronavirus
We understand that there are also some people who are under self-isolation that may not be feeling unwell but need to visit the dentist. If this is the case for you, we ask that you respect the 14-day isolation period. If you have a dental emergency, please contact our team at Coburg Hill Oral care on 03 9041 5301 so we can assess your situation and guide you on the next steps to get the treatment that you need.